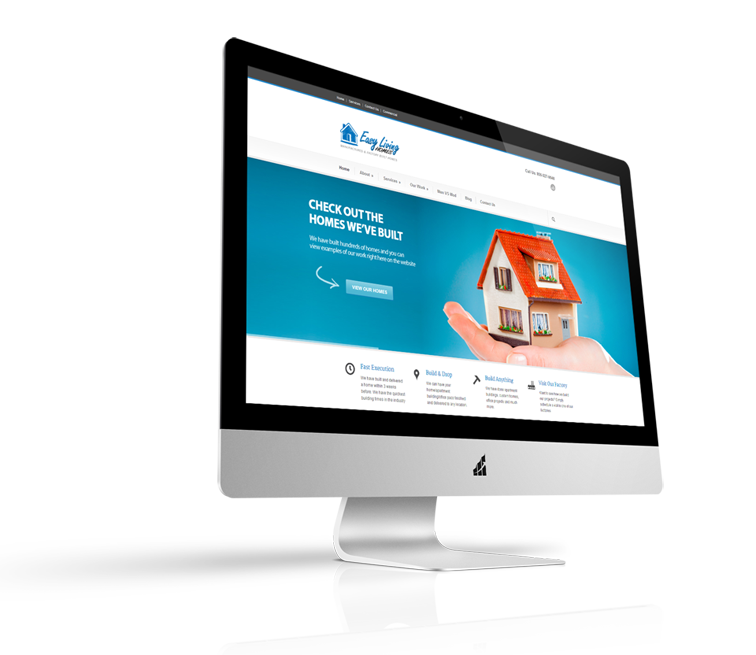 "Most web design companies have it all wrong"
Having a website is great, but if it isn't an industry leading website with a results driven focus then it doesn't matter.
You need something that will inspire, create credibility, and drive more customers into your arms.
"You need a website that will invoke credibility
&

skyrocket your profits"
I don't care about design, I care about your business
Your business goals are way more important than my design goals. My aim is to give you a website that will be a platform you can use to drive your business goals beyond success.
Here is how I will do it:
I will find out what your business goals are i.e. more sales, more leads, credibility for investors etc.

I will design the website around those goals and implement a structure that will convert your visitors into the prospects you want.
You and I will work together to explore new ways in which you can use the website to capitalize on your newly found success.
Whatever your dreams for your business are, your new website will help you to achieve them.
Gain the trust of your visitors – instantly
It is no secret that building trust, in the traditional sense, takes a long time. Luckily for you the internet has changed that.
By creating an exceptional looking website, which is targeted to the right audience, you can generate instant credibility.
The more your visitors trust you, the more likely they are to skyrocket your business.
Grab mobile visitors - & keep them
Visitors from mobile devices are set to overtake fixed line internet visitors by 2015, which is why we offer mobile optimized sites as standard.
This is called a 'responsive' design – meaning it responds to whatever screen size you view the website.
Your website will look and feel perfect on every device, whether it is an iPad, or a Droid Phone. Any device, any screen size.
Focused Design Beats Branding
Having a website that is highly focused and targeted around your business will outperform almost all fortune 500 companies' websites. All you need is a proven formula that works every time.
Your website needs to connect with your visitors on an emotional level to prompt them to take action. Corporate style websites lose out, because no one can relate to them.
Niche Marketing Beats Mass Marketing
Your website's focus also allows you go after a niche market that converts 367% better than a 'mass marketing' approach taken by your biggest competitors. Your new website will allow you to position yourself as an absolute expert in your industry.
By delivering yourself as an expert through your website, referrals go up (on average) by 67%.
Phoenix Web Design
ImYourBiz is a Phoenix web design company. I don't expect you to read this lengthy article about the history of web design. It is for those people who love to know a little something about everything. Full disclosure: It also has the additional benefit of helping our search rankings.
The history of Web design is hard to separate from graphic design, and the first postings or tweets actually occurred in prehistoric France when cavemen drew pictures and symbols on the walls of caves in Lascaux, France. Today, average business owners often become involved in Web design, and Photoshop software has become so popular that the term has taken on a generic meaning.
Striking designs capture the thought processes of viewers and encourage internal flow, guiding customers to pages, articles and order forms. I like to add spots that stick to viewers as they pass by, so they build a shopping cart of products, services or even questions that generate sales opportunities further along the stream. Each website designed by ImYourBiz.net concentrates on flow, smooth navigation and powerful user experiences.
Historic Overview of Graphic and Web Design
The Internet evolved from advanced thinking by computer scientists in the 1960s. J.C.R. Licklider from MIT proposed creating a network of computers to advance scientific research in 1962. The ARPANET developed to help scientists and researchers share information, enabled by the Advanced Research Projects Agency, which connected four major computers in the southwestern area of the United States.
Early ARPANET use concentrated on scientific communication, offering collaborative access to librarians, engineers, scientists and government professionals. Websites offered strictly no-frills textual and statistical information without any user-friendly features, graphics or colors.
The first user-friendly interface came online in 1991. The Gopher system offered menus, and operators could click on numbers and text selections to navigate. Concurrently, Tim-Berners Lee and other researchers developed a protocol known as CERN, which eventually evolved into the World Wide Web.
Light, Color and Graphic Design
Contrary to rumor, Al Gore did not invent the Internet by himself, and many people were involved in its development. The graphic browser Mosaic offered the ability to include wonderful designs to complement text, and the Library of Ion the 1990s, Congress made stunning images of Vatican Scrolls available for downloading, which only took 20 minutes per page.
Microsoft's release of Windows in June of 1998 encouraged broader commercial participation and growth in Internet service, and graphics began to play crucial roles in marketing and attracting viewer attention. Today, businesses spend more than $500 billion annually marketing products on the Internet. Function and design have become critical to compel attention because of competition from other advertisers.
My company can help your business capture viewers' attention and hold their interest. Good Web design plays a crucial role in shepherding customers along the paths you wish them to take. The effects of structured design include the following benefits:
Professional Design and Quality Links

HTML language helps produce graphics, fonts, lists and text that make it easy for people to scan material. Interactive, animated images have changed Web designs from boring to exciting, but I want to stress that you could overdo animations, blinking lights and other bells and whistles.

One of my clients, Easy Living Homes at goteasyliving.com, makes a perfect example of the effective use of design and function. The main photograph at the top of the page changes at the right speed to draw the eye. Clean graphics, uncluttered design and multiple links guide viewers back to the order forms and links that answer their questions. A sleek, professional appearance inspires confidence.

Professional design enables your site to make money, and the practice of integrating design elements, keywords and functions makes websites more responsive to viewers' needs, enabling people to find answers to their questions, so they make positive buying decisions.

Customers take professionally designed sites more seriously.
People find answers to their questions without needing to wade through lots of extraneous information.
On the goteasyliving.com website, the site organizes information into sections that get listed several ways, so viewers can click quickly on the area they want to see.

Clear Navigation and Speed

Clear navigation, fast page loads and intuitive design make it easier for viewers to find information or follow the website's flow. Images must compel attention to hold and engage viewers, but slow-loading pages could convince customers to navigate to different sites.

I design intuitive, easy-to-navigate sites in a variety of styles to suit your budget and marketing goals.

Color Conveys Emotion and Influences Perception

I believe in using color with a restrained hand, but the actual choice of colors depends on the website. For example, sites offering kids' toys and clothing should feature bright, primary colors, but professional companies want a more subdued color palette. White space helps frame and draw attention to images and text, so I try to use plenty of white space.

Branding schemes help identify companies, brands and logos by color, so particular images or color combinations automatically create an image of your company in viewers' minds.

Warm, inviting colors create favorable emotions, persuading viewers to follow the website's flow.
Uncluttered imagery and text encourage viewers to navigate further.
Greens and blues suggest serenity, ecology and nature.
Great Websites Give Your Business Instant Credibility
Strong Web design lends instant credibility to your business, products and services. Design works with each aspect of your marketing plan to move customers along where you wish them to go. Professional designs, optimized keywords, and simple navigation buttons make it easier for customers and search engines to find your website and its high-quality content.
Freshness of content keeps your site trendy and popular. Blogs, FAQ sections, videos and contests and specials help engage customers and keep them returning to your site. Designs and content that worked in the past may become static in the future without new material to keep your site interesting.
Friends and Family Input
I hate to say it, but your friends' opinions and helpful suggestions could break up website cohesion, add clutter and work against your best interests. Sometimes, the best graphic designs don't survive contact with the client. Remember that what you like makes little impact unless you plan on buying lots of your own stuff—you want to impress the greatest number of clients and make it easy for them to navigate your site. Your artistic vision might conflict with simple functionality
Hey, You Might Have the Chops for Photoshop
Of course, some people do have strong senses of color and design, but you can actually put too much time into Web design and end up neglecting your business operations. I provide effective designs, simple navigation and a proven formula for increasing website traffic and sales conversions at reasonable prices. Can other Phoenix web design companies say the same?
Muphy's Law of Unintentional Design Flaws
I've discovered that self-design efforts invariably generate Murphy's Law consequences, perhaps because website owners have too much invested in their online marketing success. If you have two words of text, one will somehow get misspelled. Company logos will be unavailable in useful website format. If you have two versions of a photo, somehow the inferior one will end up on the website.
System crashes always occur 30 seconds before you planned to save your material. Flashy graphics show off your design skills, but Google robots remain unimpressed, and people looking for information get annoyed by the distraction. Viewers only allow about four seconds for pages to load, so you need pages that load quickly, designs that attract attention but don't look busy and intuitive navigation that progresses in logical steps to create flow or website feng shui.
Frankly, having someone to take responsibility for your Web design offers relief from stress and performance anxiety. I work diligently to design your site with all the right tools built into the architecture, so you can begin to increase your viewings, sales and conversions.